Kourtney Kardashian is Obsessed with Face Stamping…and so are we!
Yes, Kourtney Kardashian is onto something.. and she is absolutely glowing!
"Last April when we were all home with not much to do, I discovered this skin tool, a stamp with tiny needles," she shared with her 110M loyal followers via Instagram. "It comes with a serum that pours into the stamp, which infuses it deeper into your skin… After my mom and Khloé were raving about my glowing skin over FaceTime, it instantly became one of my absolute favorite skin tools and product combinations."
Here at PERK plastic surgery, we offer a medical-grade version of what Kourt has recently popularized as 'the face stamper'! The sought-after treatment is called AquaGold™, and unlike Kourt's favorite at-home face stamping kit, the AquaGold facial is designed for deeper skin penetration in order to achieve real, long-lasting results. For this reason, it should be administered by a cosmetic professional only––like our own board-certified plastic surgeon, Dr. Michelle Lee!
What makes our quick and straightforward AquaGold treatment stand out from other face stamping options is a part of its namesake! Pure gold is highly biocompatible with human skin, which helps to avoid allergic reactions or skin irritation. The device itself is state-of-the-art––composed of twenty 24-karat gold needles that are "thinner than human hair," and a vessel that contains the medical-grade serum(s) you choose to infuse into your skin. Each device is single-use, and therefore, every treatment is unique and tailored to your aesthetic needs. It is what we consider to be one of the most luxurious facial rejuvenation options on the market!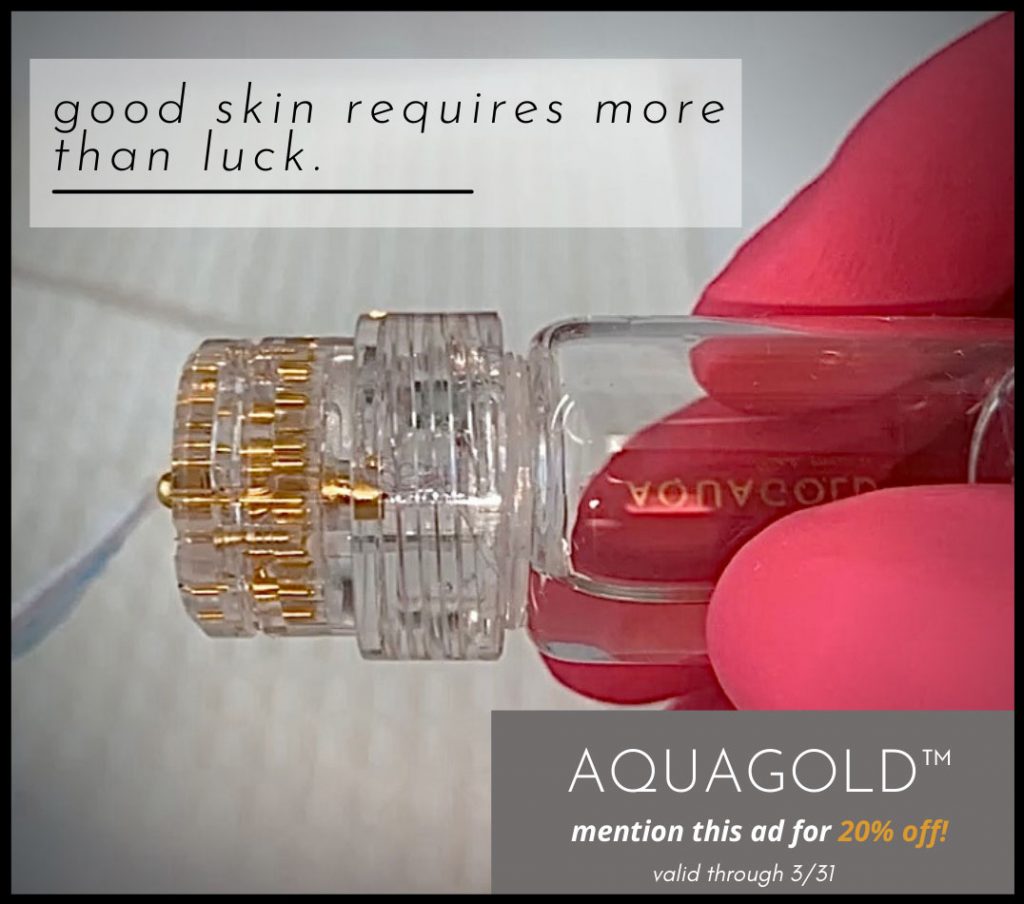 How does it work? Similar to a microneedling or PRP treatment, the micro-injuries caused by the needles incentivize your skin to heal itself, thus promoting an overcompensation of collagen production. Collagen is what helps keep our skin appearing voluminous and youthful. So the more collagen stimulation the better! In fact, the AquaGold needles create 1,000 microinjection sites per treatment!
Yes, this technique may sound somewhat familiar to you. You may be asking yourself, "isn't this just a glorified microneedling or PRP treatment?" Our answer is: not at all!
Microneedling is a treatment where tiny needles are injected into your skin as opposed to stamped, and no serums are administered in the process; while a PRP treatment, or the vampire facial, does utilize the stamping mechanism, but the aim of the all-natural procedure is to evenly distribute your repurposed platelet-rich plasma only. Other age-defying serums or solutions aren't included in the mix.
The AquaGold treatment on the other hand is customizable and great for all skin types! You can pick & choose your own cocktail of medical-grade beauty serums to use. There is a wide variety of solutions you can individualize your AquaGold treatment with, including but not limited to BOTOX, filler, hyaluronic acid, vitamins, stem cells, and your own PRP!
What are some benefits of the AquaGold™ facial? Well, the list goes on…
A quick and virtually painless procedure
No risk and no downtime
Smoothes skin texture (great for wrinkles and acne scars!)
Can be applied to sensitive areas (such as around the eyes and mouth)
Curbs oil production (great for blemish-prone skin!)
Plumps hydrates and rejuvenates
Improves hyperpigmentation
Healthy glowing skin
And more!
Schedule a consultation to discuss the AquaGold treatment with Dr. Michelle Lee today, & keep glowing!